Delticom efficiency index
The efficiency class label evaluated based on customer preferences.
Delticom centralized survey results from more than 40.000 customers from 15 European countries and created this index.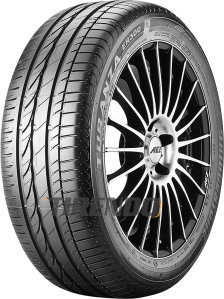 Please note: The tyres are delivered without rims
(The rim on the picture is for illustrative purposes only.)

Bridgestone Turanza ER 300A Ecopia

195/55 R16 87V *
Type of Tyre
Summer tyres
Frequently bought together:
1 x Bridgestone Turanza ER 300A Ecopia 195/55 R16 87V * =

87.30 £

1 x Castrol 5 Litre Canister =

32.72 £
Description
EU Tyre Label:
Client reviews rating
The Turanza ER300 is a touring tyre featuring an asymmetric tread pattern. The ER300 provides high-level balanced performance with outstanding wet grip without compromising excellent dry handling and stability. Original Equipment (OE), as well as a 'run-flat' version using the latest technology, on selected vehicles.
Advanced tread pattern, optimized for smooth, quiet and efficient performance. Winding groove design for rapid water evacuation and superior traction in wet conditions. Silica-reinforced construction for superior handling and fuel economy. Sleek, stylish, contemporary design.
What tyre size do you require?
The exact size of a tyre can be found on its sidewall.
The following chart shows you how to read a tyre size.
1. The width in mm
2. The height as the ratio between the width and the height in %
3. Construction type: "R"= radial (often seen), "D" or "-"= diagonal (rarely seen)
4. The required rim diameter (in inches) for this tyre
5. Load index
6. Speed index