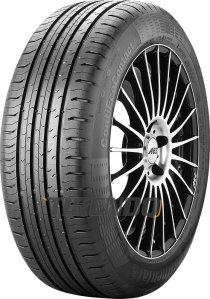 Please note: The tyres are delivered without rims
(The rim on the picture is for illustrative purposes only.)
Continental EcoContact 5 SSR
Summer tyres

225/55 R16 95V runflat, MOE

95

V

(max 240 km/h)

R-239514
Description
EU Tyre Label:
The new Performance-Eco tire
Combining short braking distances on wet and dry roads with low rolling resistance has in the past always been considered extremely problematic. Europe's leading tire manufacturer Continental has now launched a product which resolves this problem with apparent ease - the new ContiEcoContact™ 5. The tire engineers did, however, have to tread new ground in terms of all the tire elements involved - casing, compound, tire contour and tread pattern design - in order to achieve the high level of progress.

The main target conflicts when reducing rolling resistance relate to the safety-relevant characteristics of a tire. This means that the conflict between rolling resistance and handling can be influenced via the design, whilst the tire compound can assist in the problem area of low rolling resistance and short braking distances in the wet, changing the tire contour allows mileage performance to be enhanced, and the tread pattern can have a positive effect on braking characteristics in the wet. The sum total of the potential improvements helps the new tire to achieve a considerably better overall performance with even more balanced driving characteristics. The engineers at Continental therefore focused on all these areas in order to meet the high requirements made on the new tire for compact cars and large saloons.
Continental SSR Tires

SSR stands for SelfSupportingRunflat Tire

The SSR principle:

Unlike conventional tires, the SSR principle is based on a reinforced self-supporting sidewall. This prevents the inside of the tire from getting pinched between the road and the rim and from slipping into the rim well in the event of a loss of inflation. The SSR's reinforced sidewall enables the car to continue on its way at a maximum speed of 80 km/h (50 mph) for up to 80 km (50 miles), depending on road conditions and vehicle weight.

Communication between tire and driver

Because of the good riding comfort SSR tires afford, drivers hardly notice any pressure loss in the event of a flat, to increase both safety in the event of a flat and performance during normal driving, the SSR system is supplied together with an inflation warning system – either TPMS (Tire Pressure Monitoring System) or DDS (Deflation Detection System), both of which were likewise developed by Continental. These warning systems alert the driver when a drop in inflation pressure requires investigation via a display on the instrument panel.
SSR runflat tires offer crucial advantages
With SSR tires you remain mobile in the event of a flat tire
You can reach your destination or tire service facility without the bother of having to replace a flat tire with the spare tire
Compatible with standard rims
Simple mounting
Saves room and weight, and thus fuel, giving you as much as 3 cubic feet more cargo area
(1) More than 90% of our orders reach the customer in the specified delivery time.