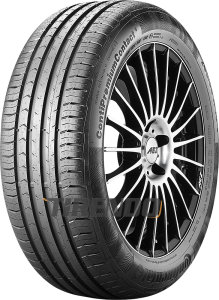 Please note: The tyres are delivered without rims
(The rim on the picture is for illustrative purposes only.)
Continental PremiumContact 5 SSR
Summer tyres

205/60 R16 92V *, runflat

92

V

(max 240 km/h)

BSW

R-252969
Description
EU Tyre Label:
Continental PremiumContact 5 SSR
Advantages:
Comfort and safety
Low rolling resistance
3D edges for shorter braking
Puts a stop to risks. In all conditions
The ContiPremiumContact™ 5 - The perfect all-rounder which combines comfort and safety at the highest stage.

The ContiPremiumContact™ 5 is the new allround premium tire for vehicles in the compact, mid-size and full-size category. The allrounder boasts extremely short braking distances on dry and wet roads, low rolling resistance, safe driving properties and comfortable handling characteristics. To realize all of this, Continental's development engineers imbued the ContiPremiumContact™ 5 with a host of improvements. The optimized 3D edges are what make for shorter braking distances than in the case of the predecessor model. Adapted from the ContiSportContact™ 5, the macro-blocks guarantee safe handling and better transmission of cornering forces. A new carcass – adapted this time from the ContiEcoContact™ 5 – enhances comfort and reduces the ContiPremiumContact™ 5's rolling resistance.
Also unbeatable in temperature curves
Short braking distances on dry and wet surfaces. Newly developed 3-D edges prevent the tread blocks from curling and deforming while braking, providing even pressure distribution. Additionally, block edges penetrate the water film on the road in wet conditions, similar to a windscreen wiper. This results in even shorter stopping distances on dry and wet surfaces in particular.
Perfect grip and optimal handling in every driving situation
Computer-optimised macro blocks maximise the contact area of the tyre when strong lateral forces are present and when braking or changing lanes at high speed. In addition, they provide considerably improved tread stability – for perfect handling and outstanding grip, even in extreme driving situations.Comfortable driving and improved rolling resistance. The combination of a flexibly designed tyre shoulder and reinforced bead area ensures optimum flexibility with increased stability of the side wall. This results in noticeably more comfortable driving with perfect handling and improved rolling resistance.
For mid-sized and executive class vehicles. The perfect all-round tyre, matching performance with safety. Engineered in Germany, Continental offers premium tyres with optimum braking performance and safety. Perfect grip, optimal handling and short braking distances in every driving situation. Trusted by leading car manufacturers, including the models eg. Audi A3 and Volkswagen Golf VII.
Highlights:
Short braking distances on dry and wet surfaces
Perfect grip and optimal handling in every driving situation
Comfortable driving and improved rolling resistance
Continental SSR Tires
SSR stands for SelfSupportingRunflat Tire.

The SSR principle:
Unlike conventional tires, the SSR principle is based on a reinforced self-supporting sidewall. This prevents the inside of the tire from getting pinched between the road and the rim and from slipping into the rim well in the event of a loss of inflation. The SSR's reinforced sidewall enables the car to continue on its way at a maximum speed of 80 km/h (50 mph) for up to
80 km (50 miles), depending on road conditions and vehicle weight.

Communication between tire and driver
Because of the good riding comfort SSR tires afford, drivers hardly notice any pressure loss in the event of a flat, to increase both safety in the event of a flat and performance during normal driving, the SSR system is supplied together with an inflation warning system – either TPMS (Tire Pressure Monitoring System) or DDS (Deflation Detection System), both of which were likewise developed by Continental. These warning systems alert the driver when a drop in inflation pressure requires investigation via a display on the instrument panel.
SSR runflat tires offer crucial advantages
With SSR tires you remain mobile in the event of a flat tire. You can reach your destination or tire service facility without the bother of having to replace a flat tire with the spare tire→Compatible with standard rims; Simple mounting; Saves room and weight, and thus fuel, giving you as much as 3 cubic feet more cargo area.
(1) More than 90% of our orders reach the customer in the specified delivery time.