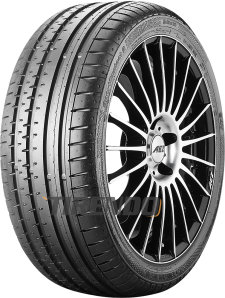 Please note: The tyres are delivered without rims
(The rim on the picture is for illustrative purposes only.)
Continental SportContact 2 SSR
Summer tyres

225/45 R17 91W with kerbing rib, runflat, *

91

W

(max 270 km/h)

BSW

R-118248
Description
EU Tyre Label:
For ultra-powerful, high-performance cars
Kim Adams' Verdict:

'I have driven this tyre on everything from a Porsche 911 to a 350bhp Ford Mustang at tracks as diverse as a soaking handling circuit and the home of the Spanish GP but whatever the conditions it remains mightily impressive. With powerful machines like these you need a progressive tyre that gives plenty of warning when the limit is being approached and the SportContact™2 delivers in both dry and wet inspiring you to use all the performance available.' Kim Adams writes for Auto Express magazine
Highlights:
Outstanding road adherence
Stable straight-running ability
Excellent grip on wet and dry surfaces
Continental SSR Tires

SSR stands for SelfSupportingRunflat Tire

The SSR principle:

Unlike conventional tires, the SSR principle is based on a reinforced self-supporting sidewall. This prevents the inside of the tire from getting pinched between the road and the rim and from slipping into the rim well in the event of a loss of inflation. The SSR's reinforced sidewall enables the car to continue on its way at a maximum speed of 80 km/h (50 mph) for up to
80 km (50 miles), depending on road conditions and vehicle weight.

Communication between tire and driver

Because of the good riding comfort SSR tires afford, drivers hardly notice any pressure loss in the event of a flat, to increase both safety in the event of a flat and performance during normal driving, the SSR system is supplied together with an inflation warning system – either TPMS (Tire Pressure Monitoring System) or DDS (Deflation Detection System), both of which were likewise developed by Continental. These warning systems alert the driver when a drop in inflation pressure requires investigation via a display on the instrument panel.

SSR runflat tires offer crucial advantages

With SSR tires you remain mobile in the event of a flat tire. You can reach your destination or tire service facility without the bother of having to replace a flat tire with the spare tire
Compatible with standard rims
Simple mounting
Saves room and weight, and thus fuel, giving you as much as 3 cubic feet more cargo area
(1) More than 90% of our orders reach the customer in the specified delivery time.