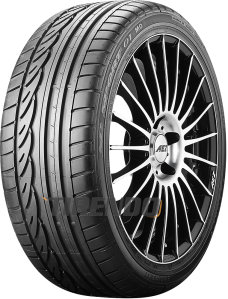 Please note: The tyres are delivered without rims
(The rim on the picture is for illustrative purposes only.)
Dunlop SP Sport 01 ROF
Summer tyres

245/40 R18 93Y *, with rim protection (MFS), runflat

93

Y

(max 300 km/h)

R-132450
Description
EU Tyre Label:
Dunlop SP Sport 01 ROF
An impressive tyre, which meets the original equipment demands of many premium vehicle manufacturers. The Sport 01 promotes enhanced levels of braking and handling in wet and dry conditions and delivers low level noise and comfort A multitalented tire for mid class and luxury vehicles: Superb performance in various conditions, high speed handling, enhanced grip on wet plus quiet and comfort ride.
Technology (Features):
Reassuring road holding in both dry and very wet conditions with excellent aquaplaning resistance.
Improved fuel efficiency and reduced tread wear combined with more reassuring handling at high speed and a quieter ride.
Minimum in-car and pass-by noise, with nimble cornering due to closed outer shoulder.
Specific bead seat system. Strengthens the link between tyre and rim for a more precise driving experience. Like the grip between your hand and the steering wheel, the Specific Bead Seat System enhances control and conveys outstanding road feedback. Benefits Enhanced road feedback; greater stability and precision.
Jointless Belt (JLB). A Hybrid Overlay Technology that reduces circumferential deformations at high speeds.Benefits Superior high speed stability Jointless Belt (JLB) A Hybrid Overlay Technology that reduces circumferential deformations at high speeds.Benefits Superior high speed stability.
Maximum Flange Shield (MFS). A rim flange protection system. MFS employs a profile of rubber that runs around the circumference of the tyre above the wheel flange. This creates a protective buffer zone.* Benefits Protects expensive alloy wheels from kerbing.* Only available in select sizes.
Asymmetric Tread Design. Asymmetric tread design provides improved handling and aquaplaning resistance. The continuous center rib increases stability and precision. The asymmetric groove arrangement enhances grip on wet and dry surfaces.Benefits Improved performance on straight lines and around corners.
Consumer benefits:
Rim protection that protects expensive alloys from kerbing
Run on flat
More responsive steering
Longer tread life
High aquaplaning resistance
Enhanced grip on wet. The full silica compound ensures high levels of grip and braking power in wet and dry conditions. Special blocks in the tread rapidly disperse water in heavy rain conditions.
High speed handling. Experience smooth and stable motorway driving. The tyre keeps its shape at high speeds for precise cornering control. The asymmetric tread pattern increases stability on straight roads and around corners.
Quiet, comfortable ride. Enjoy a quieter ride thanks to a block design that cancels out irritating frequencies. The tread pattern is optimised for even wear, increasing comfort and prolonging tyre life.
Superb performance in various conditions. The SP Sport 01 unites three key performance properties in one innovative tyre. The asymmetric tread features three distinct zones that give you an ideal balance of sporty handling, high aquaplaning resistance and smooth driving comfort.
High speed and cornering stability. The SportMaxx GT maintains its shape at motorway speeds, which helps to enhance stability and wear resistance. Pressure is distributed across the contact patch, resulting in smoother transitions from straight to corner.
RunOnFlat. Dunlop Self Supporting Technology (DSST)Dunlop RunOnFlat Technology allows for continued driving after a puncture or blowout for up to 80km. RunOnFlat tyres use reinforced sidewalls, which enable the tyre to maintain mobility after a complete loss of air pressure.Safety Notice Dunlop RunOnFlat tyres should only be mounted on cars that are designed for run flat tyres and equipped with a fully operating tyre pressure warning device, such as Dunlop WARNAIR. A maximum distance of 80km/50 miles and maximum speed of 80 kmh/50 mph should not be exceeded. Please refer to your car's manual as manufacturers' advice for a particular vehicle may differ.
(1) More than 90% of our orders reach the customer in the specified delivery time.