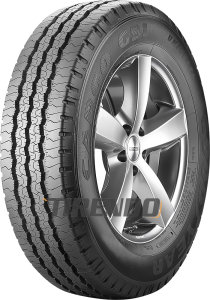 Please note: The tyres are delivered without rims
(The rim on the picture is for illustrative purposes only.)
Goodyear Cargo G91
Summer tyres

205/75 R16C 113/111Q

113/111

Q

(max 160 km/h)

D39259
Description
EU Tyre Label:
The durable tyre that excels under heavy loads
The Cargo G91 is a van and light truck tyre that's designed to handle large loads.
Extra durability
Long-lasting performance
Traction on wet roads
Traction on wet roads. Radial blades in the tread provide additional traction on wet surfaces, for confident handling in rainy conditions.
Long-lasting performance. The Cargo G91 features a deep tread depth to give the tyre a longer life. A wide tread design helps to ensure even wear over the tyre's lifetime. Shoulder notches reduce heat build-up, which helps to increase mileage further.
Extra durability. Carry heavy loads with ease. The Cargo G91 has a reinforced steel carcass for increased durability and load-carrying capacity.
Feature:
Unisteel ultra-tensile steel carcass
4-rib design
Deeper tread depth
Radial blading
Shoulder notches
Action:
Reinforces tyre
Spreads load evenly
Increases rubber volume
Provides additional grip
Disperses tyre heat build-up
Benefits:
Durability
High load capability
Improved handling and mileage
Increased mileage
Wet traction
Cool running
Long life
Extremely strong van tyre. The Cargo G91 excels at carrying large loads safely. Based on the renowned Unisteel technology, the Cargo G91 has an all-steel carcass, which increases its high load carrying capability. The tyre's excellent all-round performance is enhanced by its wet traction, cool running and increased mileage benefits.
(1) More than 90% of our orders reach the customer in the specified delivery time.