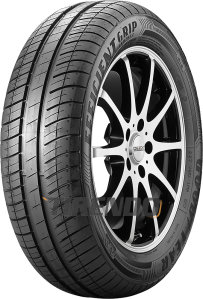 Please note: The tyres are delivered without rims
(The rim on the picture is for illustrative purposes only.)
Goodyear EfficientGrip Compact
Summer tyres

185/60 R14 82T

82

T

(max 190 km/h)
Description
EU Tyre Label:
Goodyear Efficient Grip Compact
The fuel-saving tyre for long life and confident wet or dry handling
The new Goodyear EfficientGrip Compact combines high mileage and fuel efficiency with shorter braking distances in wet or dry.
Environmentally friendly. A stiffer tread design reduces rolling resistance, resulting in lower CO2 emissions, while regular wear means longer tyre life and less waste generated.
Shorter braking distances on wet and dry roads. A new tread design features dual wide grooves, extra large sipes and multiple biting edges to cut through surface water for improved braking in the wet.
Better resistance to aquaplaning. A rounder cavity shape stops the accumulation of water in front of the tyre to help prevent aquaplaning.
Improved fuel efficiency and mileage. Advances in tyre components and construction reduce overall tyre weight by 5%* for improved rolling resistance, while optimised pressure distribution promotes even tyre wear.
Advantages:
Longevity mileage.
Good performance on wet bracking.
Reduce aquaplaning risks.
Tyre description:
Special cavity shape, two big circumsferential grooves and blades offer good wet performance.
The lightweight construction enables a low rolling resistance.
The EfficientGrip Compact tyre delivers security and comfort with high levels of handling and performance.
Feature:
Multiple biting edges with extra large sipes.
New Cavity Shape.
Optimized pressure distribution.
Dual wide grooves.
Action:
Sipes cut the water layer efficiently.
Extra large sipes remain open longer in the contact area to cut the water layer more efficiently.
A rounder cavity reduces the accumulation of water in front of the tyre to reduce the risk of aquaplaning.
More even wear, providing higher mileage
Benefits:
Shorter braking distance on wet roads.
Shorter braking distance on wet and dry roads, as well as better resistance to aquaplaning.
Higher mileage.
(1) More than 90% of our orders reach the customer in the specified delivery time.