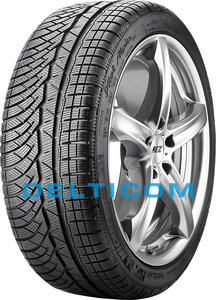 Please note: The tyres are delivered without rims
(The rim on the picture is for illustrative purposes only.)
Michelin Pilot Alpin PA4 ZP
Winter tyres

245/50 R18 100H runflat, *

100

H

(max 210 km/h)

R-274944
Description
EU Tyre Label:
This V-rated tire provides safe winter driving year after year with controlled power.
Benefits of Michelin
Exceptional Control in Snow and Ice
Equipped with an exclusive tread design and Stabiligrip, a 3D sipe technology, the new Michelin® Pilot® Alpin® PA4™ tire delivers a 10% improvement in snow acceleration and more than a 5% enhancement in handling on snow covered and icy roads.
Improved Braking Distance
The new formula of full silica-based rubber compound, Helio Compound+, allows the Michelin® Pilot® Alpin® PA4™ tire to remain flexible in low temperatures for better winter performance, stopping over 5% shorter on snow, ice and wet roads.
Certified By Ultra-High Performance Vehicle Manufacturers
The new Michelin® Pilot® Alpin® PA4™ tire is approved by the high standards of Porsche SE and is currently being tested by many other high-performance vehicle manufacturers.
Zero Pressure (ZP)
The side of the road is not a fun place. In fact, it can be dangerous. Thankfully, there's run flat technology. Run flat tires allow you to drive for a limited distance and reduced speed after a puncture or other event has resulted in either a drop in tire inflation pressure or a complete loss of inflation pressure. For example, MICHELIN® Zero Pressure (ZP) tires provide run-flat technology that allows you to drive up to 50 miles at 50 mph with a flat tire.
Never mix run flat tires with tires that do not have run flat technology (conventional tires) unless in an emergency situation on a limited, temporary basis. The conventional tire should then be replaced with a run flat tire as soon as possible. It is not recommended to mix different run flat technologies/products.
(1) More than 90% of our orders reach the customer in the specified delivery time.