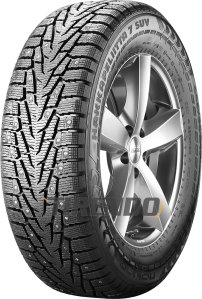 Please note: The tyres are delivered without rims
(The rim on the picture is for illustrative purposes only.)
Nokian HKPL7 SUV
Winter tyres

M+S marking

with snow flake symbol

265/45 R21 108T XL , studdable

108

T

(max 190 km/h)

BSW

R-195318
Frequently bought together:
4 x Nokian HKPL7 SUV 265/45 R21 108T XL , studdable =
265.10 £
1 x Pewag pewag servo SUV RSV 82 =
145.60 £
Description
EU Tyre Label:
Firm grip and excellent durability
First-class grip in varying conditions
Stable and balanced driving response
A durable structure optimized for demanding SUV use
This new tire combines unyielding grip with exceptional durability and unique driving comfort. For a unique winter grip and soft road contact, the tires are equipped with the Air Claw Technology – a flawless combination of an entirely new stud solution and the droplet-shaped air shock absorbers in the front edge of the tread blocks.

Slush edges maximize lateral grip

For heavy, high-performance SUVs, balanced grip characteristics and the ability to control them are vital. Drivers who love to drive an SUV especially want reliable lateral grip to ensure good steering and stability of the high vehicle in high speed and in extreme conditions.
To further improve the excellent lateral grip of the Nokian Hakkapeliitta SUV 7, the shoulders of the tire are equipped with staggered slush edges customized for SUV use. The new SUV Hakkapeliitta has the ability to optimally utilize the new driving stability management systems and thereby to deliver added safety and better performance in demanding circumstances.

Driving comfort with balance and precision

The sporty, high-grip tire carries the heavy tire load with excellent control, stability and reliability on an icy and wet road. The tire also delivers superior performance on snow and on clean roads. In addition to convincing grip in extreme conditions, this SUV tire provides a precise, logical and balanced driving experience.

The aggressive tread pattern features a dense, sharp-edged zigzag siping to provide additional grip. Thanks to the geometric tread design, the tire will not get clogged up with snow or slush, instead, it cleans easily and runs effortlessly in deep snow and slush on challenging forest roads.

Side impact protection gives added durability

In SUV use, the side walls of the tire must also be able to withstand cuts and punctures. The multi-purpose Nokian Hakkapeliitta 7 SUV comes with side impact protection for better durability.

The rubber compound used in the new tire has been adapted for winter use in SUVs. The tire tread is made from a compound of natural rubber, silica and canola oil, which improves tear resistance and grip on ice. In addition, the tire can easily withstand punctures from sharp-edged stones.

Safety with the tire condition indicator

Tread indicators show the tire condition, which increases driving comfort and safety. Developed and patented by Nokian Tyres, the Driving Safety Indicator (DSI) indicates in numbers how many millimeters of tread remain in the main grooves of the tire.

Similarly, the snowflake symbol is a winter safety indicator. It remains visible until the groove depth is four millimeters. For safe winter driving, the required groove depth is at least 4 to 5 millimeters. The Nokian Hakkapeliitta 7 SUV will first be available in a range of sizes covering 21 items from 16" to 21" tires.
(1) More than 90% of our orders reach the customer in the specified delivery time.