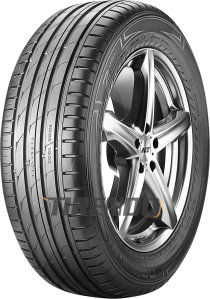 Please note: The tyres are delivered without rims
(The rim on the picture is for illustrative purposes only.)
Nokian Z SUV
Summer tyres

255/55 R19 111W XL

111

W

(max 270 km/h)

BSW

R-166191
Description
EU Tyre Label:
Nokian Z SUV, tailored for the demanding conditions, responds to the motorist's wishes: it rolls quickly, handles easily and precisely and is light, but still strong.

The new tyre is big and impressive, but elegant and fast, this specialised product has low noise levels and enjoys extreme conditions.

Roads in poor condition with holes and an uneven surface, with suddenly changing conditions and wet are home territory for the summer tyres developed by Nokian. That is why their plus points come into their own effortlessly in excellent conditions and on smooth asphalt.

The surface design makes Nokian Z SUV safe and improves the road response. The reinforced central area of the tyre, the stiff, fixed outer shoulder as well as the inside-outside-pattern ensures excellent driving characteristics. The ribs in the central area are intended for the high speed tyres: they improve the safety of the tyre and the precise contact with the road.

The bead region of the new tyre, designed for fast driving and the most demanding SUV categories, has been completely renewed. The circumferential stiffening belt, jointless and strong cable as well as blocks that support the bead region increase the sensitivity and accuracy of driving pleasure.

The bead region, especially tailored for SUV use, protects the rim. The advantages of this construction are fast response to steering. The tyre remains cool and responses immediately and faultlessly to the driver's commands.

Cool Zone Concept: natural canola oil combines with tough technology
The most important innovations i.e. the multi-layered surface structure, canola (rape-seed) oil-silica compound and the new surface geometry make the Nokian Z SUV unique.

The lowest layer of the multi-layered surface structure is a thin layer of rubber compound which reduces heat generation and rolling resistance. The flexible compound in the intermediate layer reacts more quickly to steering movements than traditional rubber compounds. Road contact is more sensitive and precise. Excellent driving stability is positively emphasised on rutted roads.

The new canola oil-silica compound ensures excellent grip in the wet, particularly at low temperatures. The new compound efficiently dampens the noise generated on rough asphalt. The tyre is quiet and pleasant to drive.

The tyre is designed for high speed categories for European motorists who demand safety and quality. The broad size range covers V- (210 km/h), W- (270 km/h) and Y-(300 km/h) speed categories with alternatives from 17 inches to 22 inches.
Properties:
Tailor-made durability for SUVs
Excellent grip in demanding conditions
Efficient power.
(1) More than 90% of our orders reach the customer in the specified delivery time.