Delticom efficiency index
The efficiency class label evaluated based on customer preferences.
Delticom centralized survey results from more than 40.000 customers from 15 European countries and created this index.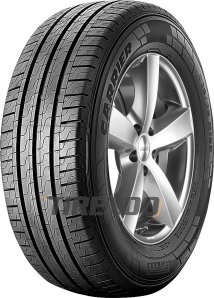 Please note: The tyres are delivered without rims
(The rim on the picture is for illustrative purposes only.)

Pirelli Carrier

235/65 R16C 115/113R
Type of Tyre
Summer tyres
Frequently bought together:
1 x Pirelli Carrier 235/65 R16C 115/113R =

108.20 £

1 x Castrol 5 Litre Canister =

33.04 £
Description
EU Tyre Label:
VALUE FOR FLEETS, SAFETY FOR DRIVERS
A breakthrough in mileage.
The long lasting tyre for professionals
Through the use of an all new tread design and profile geometry plus an advanced silica compound, the CARRIER Summer achieves vastly improved mileage and performance over its predecessor placing it at the level of the market leaders. Those who drive for a living know it very well: a good tyre is crucial. The Carrier Summer Tyre will get you through even the most demanding conditions both safely and comfortably.
Mileage improvement of 30% thanks to a complete change of the profile geometry and an all new compound.
Up to a 10% improvement in wet braking, wet handling and aquaplaning resistance thanks to an all new tread pattern, compound and profile geometry.
Lower rolling resistance
Improved Comfort
Segment leading market coverage
FEATURES
New compound and enhanced tread geometry
Optimized profile and innovative materials
New compound and tread design with 3 wide longitudinal grooves
FUNCTIONS
Increased Mileage
Lower Rolling Resistance
Improved aquaplaning resistance and performance at wet braking
BENEFITS
Better Value for Money
Less fuel consumption and thus, an economical operation
Safety in wet conditions
What tyre size do you require?
The exact size of a tyre can be found on its sidewall.
The following chart shows you how to read a tyre size.
1. The width in mm
2. The height as the ratio between the width and the height in %
3. Construction type: "R"= radial (often seen), "D" or "-"= diagonal (rarely seen)
4. The required rim diameter (in inches) for this tyre
5. Load index
6. Speed index