Delticom efficiency index
The efficiency class label evaluated based on customer preferences.
Delticom centralized survey results from more than 40.000 customers from 15 European countries and created this index.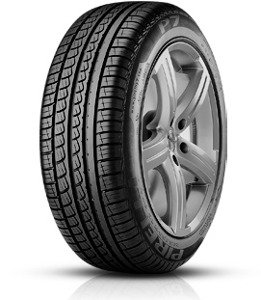 Please note: The tyres are delivered without rims
(The rim on the picture is for illustrative purposes only.)

Pirelli P 7

205/55 R16 91V
Type of Tyre
Summer tyres
Frequently bought together:
1 x Pirelli P 7 205/55 R16 91V =

53.90 £

1 x Castrol 5 Litre Canister =

33.04 £
Description
EU Tyre Label:
Client reviews rating
Designed predominantly for latest generation sports cars of medium to high power, P7 represents a contribution to performance in the wet, precise cornering, safety during braking and, above all, lifelong ability to maintain these characteristics.

The new tyre perpetuates the legendary name of the P7 - Rally World Champion, the forerunner of ultra-high performance car tyres derived from motorsport. P7, together with P6, marks the introduction of a new generation of tyres positioned as "top of the range" in the segment currently occupied by the P6000 family. P7's attractive asymmetric design blends style with an aggressive look.

The tyre is a step ahead in active safety and driving performance thanks to the adoption of the "STEP" (Safety from Technically Engineered Profile) and "ELRR" (Extra Low Rolling Resistance), patented systems fostering a more harmonious interaction between the various performing components of the tyre.

The result is a tyre effective in the wet, assured in braking, cornering, steeering response and also comfortable on long motorway journeys.
What tyre size do you require?
The exact size of a tyre can be found on its sidewall.
The following chart shows you how to read a tyre size.
1. The width in mm
2. The height as the ratio between the width and the height in %
3. Construction type: "R"= radial (often seen), "D" or "-"= diagonal (rarely seen)
4. The required rim diameter (in inches) for this tyre
5. Load index
6. Speed index