Delticom efficiency index
The efficiency class label evaluated based on customer preferences.
Delticom centralized survey results from more than 40.000 customers from 15 European countries and created this index.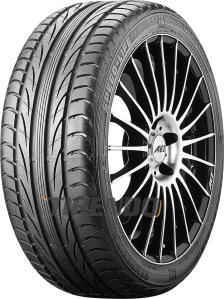 Please note: The tyres are delivered without rims
(The rim on the picture is for illustrative purposes only.)

Semperit Speed-Life

195/60 R15 88H
Type of Tyre
Summer tyres
Frequently bought together:
1 x Semperit Speed-Life 195/60 R15 88H =

53.20 £

1 x Castrol 5 Litre Canister =

32.70 £
Description
EU Tyre Label:
Client reviews rating
Speed-Life - The dynamic. Corners with ease.
Designed for medium range and luxury vehicles, the Speed-Life sets new benchmarks for maximum road adherence when cornering. In tight or wide bends, on wet or dry roads - whatever the situation, the Semperit Speed-Life demonstrates top handling. Sporty performance, safety and comfort - three characteristics in one tire. Whatever the weather! The Semperit quality, provides maximum safety, even under tough conditions. Top Performance on straight and winding roads. Fits perfectly for example to VW Scirocco, Peugeot 307 CC and Audi Q3.
Varying block lengths in tread centre and shoulder
Innovative tread pattern design with high lateral stability
Latest generation full-silica compound
Wide circumferential grooves
Top Performance on straight and winding roads. Precise transmission of the steering forces on the road through a wide and solid profile centre. Effect: safer driving at high speeds.
Comfortable and quiet running. Comfortable driving and constant quiet running in all driving situations as a result of blocks of varying lengths in the tread centre and shoulder. Effect: Optimized contact between tread-blocks and road. Frequency peaks are distributed equally, thereby creating a constantly low noise level.
Grips on wet roads. Safe, sporty and economical - even on wet surfaces – thanks to latest generation of full silica compound. Effect: improved grip in the wet and reduced rolling resistance.
What tyre size do you require?
The exact size of a tyre can be found on its sidewall.
The following chart shows you how to read a tyre size.
1. The width in mm
2. The height as the ratio between the width and the height in %
3. Construction type: "R"= radial (often seen), "D" or "-"= diagonal (rarely seen)
4. The required rim diameter (in inches) for this tyre
5. Load index
6. Speed index