Delticom efficiency index
The efficiency class label evaluated based on customer preferences.
Delticom centralized survey results from more than 40.000 customers from 15 European countries and created this index.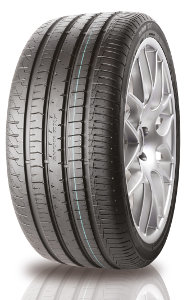 Please note: The tyres are delivered without rims
(The rim on the picture is for illustrative purposes only.)

Type of Tyre
Summer tyres
Frequently bought together:
1 x Avon ZX7 215/65 R16 98H =

63.90 £

1 x Castrol 5 Litre Canister =

32.66 £
Description
EU Tyre Label:
Client reviews rating
ZX7
An ultra-high performance SUV tyre with 'A' grade wet grip - the perfect choice for dirvers who demand the best.
Unique asymmetric tread pattern aids wet grip and resists aquaplaning
3D sipes with interlocking three-dimensional points improve handline and tyre wear
Coupled silica compound enhances wet grip
Spring venting design for a cleaner and higher quality tyre appearance
Rim protector - extended flange protects alloy wheels from rim damange and scuffing
Available in a range of fitments from 16' to 21' rim diameters with H, V, W and Y speed ratings
What tyre size do you require?
The exact size of a tyre can be found on its sidewall.
The following chart shows you how to read a tyre size.
1. The width in mm
2. The height as the ratio between the width and the height in %
3. Construction type: "R"= radial (often seen), "D" or "-"= diagonal (rarely seen)
4. The required rim diameter (in inches) for this tyre
5. Load index
6. Speed index