Delticom efficiency index
The efficiency class label evaluated based on customer preferences.
Delticom centralized survey results from more than 40.000 customers from 15 European countries and created this index.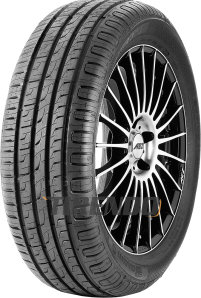 Please note: The tyres are delivered without rims
(The rim on the picture is for illustrative purposes only.)

Barum Bravuris 3HM

215/55 R18 99V XL SUV
Type of Tyre
Summer tyres
Frequently bought together:
1 x Barum Bravuris 3HM 215/55 R18 99V XL SUV =

92.10 £

1 x Castrol 5 Litre Canister =

33.04 £
Description
EU Tyre Label:
Client reviews rating
More miles and more economy - driving without limits
For sporty driving in all vehicles classes. Exceptionally good in all driving conditions.
Barum offers affordable long lasting performance
Precise handling and good directional stability on winding roads
Fits perfectly for example to Skoda Octavia, BMW Series 3 Convertible and VW Golf Convertible
The Bravuris 3HM delivers what the affix 'HM' promises: High Mileage!
Thanks to minimal wear you can be sure to go further - with regard to mileage as well as superb driving comfort.

The Bravuris 3HM is a well-balanced tire that perfectly combines greater mileage with confident handling in all driving situations, offering extraordinary value for money.
Higher mileage due to reduced wear rate, even wear shape and reduced friction energy
Precise handling and safe driving on winding roads
Good directional stability
Short wet braking distances
Precise handling and good directional stability on winding roads.
The high lateral stiffness due to closed shoulders with macroblocks lead to a superb transmission of lateral forces at minor steering angles. The effect of excellent handling on winding roads is complemented by intermediate ribs which guarantee good directional stability.
Short wet braking distances.
The large number of gripping edges provided by sipes and the high number of pitches improve the contact with the road surface. The state of the art tread compound also guarantees optimum adhesion and short stopping distances on wet road surfaces.
High mileage.
The wide, flat contour and a high number of pitches and sipes evenly distribute the pressure. The block deformation in the ground contact area is thereby reduced and the wear is low, which increases the mileage.
High Mileage
Feature: A wide, flat contour with a large number of pitches and sipes
Effect: Even pressure distribution and reduced block deformation on the ground contact area
Benefit: Higher mileage thanks to reduced and even wear

Dry Handling

Feature: High lateral stiffness thanks to closed shoulders with macro-blocks
Effect: Wide center and intermediate ribs support the transference of side forces at narrow wheel angles
Benefit: Precise handling and good directional stability on winding roads

Wet braking

Feature: Improved road surface contact thanks to a high number of grip edges due to sipes and a high pitch count number
Effect: State-of-the-art compound guarantees an improved grip on wet surfaces
Benefit: Short wet braking distances

Three-level groove

Surface phase increases rigidity and improves handling
Wide groove structure allows high water absorption and improved wet handling
Finned body improves wet braking because gripping edges interact with the road surface
What tyre size do you require?
The exact size of a tyre can be found on its sidewall.
The following chart shows you how to read a tyre size.
1. The width in mm
2. The height as the ratio between the width and the height in %
3. Construction type: "R"= radial (often seen), "D" or "-"= diagonal (rarely seen)
4. The required rim diameter (in inches) for this tyre
5. Load index
6. Speed index