Delticom efficiency index
The efficiency class label evaluated based on customer preferences.
Delticom centralized survey results from more than 40.000 customers from 15 European countries and created this index.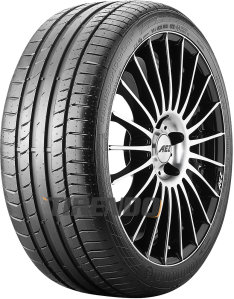 Please note: The tyres are delivered without rims
(The rim on the picture is for illustrative purposes only.)

Continental ContiSportContact 5 P SSR

285/30 R19 98Y XL MOE, runflat
Type of Tyre
Summer tyres
Frequently bought together:
1 x Continental ContiSportContact 5 P SSR 285/30 R19 98Y XL MOE, runflat =

253.80 £

1 x Castrol 5 Litre Canister =

33.04 £
Description
EU Tyre Label:
Extremely fast. Even when braking.

The ContiSportContact™ 5 P - safe performance for sporty cars, giving maximum fun at the wheel.
The latest innovation from the Continental experts. A high performance tire that offers maximum safety and driving pleasure for highly tuned cars. The ContiSportContact™ 5 P is individually adjusted to meet the specific requirements of the front and rear axle positions. With precise steering and maximum grip under all conditions the vehicle's perform to their full potential on the road. The ContiSportContact™ 5 P doesn't only go fast – it stops fast too. It is therefore recommended by leading experts.

Highlights:
Perfect steering precision and sporty handling 
Outstanding grip and stability during cornering
Short braking distances on both wet and dry roads
Optimised to meet the specific requirements of front and rear axle positions
Continental SSR Tires

SSR stands for SelfSupportingRunflat Tire

The SSR principle:

Unlike conventional tires, the SSR principle is based on a reinforced self-supporting sidewall. This prevents the inside of the tire from getting pinched between the road and the rim and from slipping into the rim well in the event of a loss of inflation. The SSR's reinforced sidewall enables the car to continue on its way at a maximum speed of 80 km/h (50 mph) for up to
80 km (50 miles), depending on road conditions and vehicle weight.

Communication between tire and driver

Because of the good riding comfort SSR tires afford, drivers hardly notice any pressure loss in the event of a flat, to increase both safety in the event of a flat and performance during normal driving, the SSR system is supplied together with an inflation warning system – either TPMS (Tire Pressure Monitoring System) or DDS (Deflation Detection System), both of which were likewise developed by Continental. These warning systems alert the driver when a drop in inflation pressure requires investigation via a display on the instrument panel.

SSR runflat tires offer crucial advantages

With SSR tires you remain mobile in the event of a flat tire. You can reach your destination or tire service facility without the bother of having to replace a flat tire with the spare tire
Compatible with standard rims
Simple mounting
Saves room and weight, and thus fuel, giving you as much as 3 cubic feet more cargo area
What tyre size do you require?
The exact size of a tyre can be found on its sidewall.
The following chart shows you how to read a tyre size.
1. The width in mm
2. The height as the ratio between the width and the height in %
3. Construction type: "R"= radial (often seen), "D" or "-"= diagonal (rarely seen)
4. The required rim diameter (in inches) for this tyre
5. Load index
6. Speed index