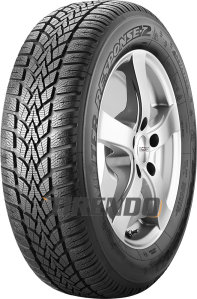 Please note: The tyres are delivered without rims
(The rim on the picture is for illustrative purposes only.)
Dunlop Winter Response 2
Winter tyres

M+S marking

with snow flake symbol

185/60 R14 82T

82

T

(max 190 km/h)

BSW

R-280986
Frequently bought together:
4 x Dunlop Winter Response 2 185/60 R14 82T =
53.40 £
1 x DeltiGrip Deltigrip eco - Quality Snow Chain for your car =
20.61 £
Description
EU Tyre Label:
Confident braking and handling in all winter conditions
The new Winter Response 2 from Dunlop offers excellent braking and handling performance in all winter conditions.
Excellent cornering grip on snow
Reliable winter braking
Good wet weather handling
Low rolling resistance
Description:
Incorporating a new innovative reverse tread design for maximum snow traction, and high density sipe system for penetrating ice, the Winter Response 2 enhances both braking and cornering in all winter conditions. Complemented by an optimised carcass construction for improved rolling resistance, the Winter Response 2 also offers excellent fuel saving for a winter tyre. Winter tires specially developed to maintain vehicle control in all driving conditions during the winter.
SP Winter Response is a winter tire that offers grip and better control and improved levels of response to winter driving in all conditions. Winter tires that shows two types of blades, working together to provide better stability and traction control. Tabs on the shoulders of the tire traction and braking performance boost, while high amplitude of the blade in the center of the gauge increases traction and produce high levels of resistance to slipping sideways while running in winter driving conditions. Winter tires emblazoned with the mark 'M + S' in accordance with Council Directive 92/23/EEC of 31 March 1992 on the tires (tires) motor vehicles and their trailers.
Low rolling resistance. Optimised shape carcass construction means less deformation in comparison to a standard tyre, for improved rolling resistance and better fuel economy.
Reliable winter braking. Our innovative Reverse Snowguide block pattern captures snow in the centreline of the tyre tread for increased contact area, meaning more grip when braking and accelerating.
Technology (Features):
45 degree Shoulder Sipes
Reverse SnowGuide
High-Density Sipe System
Optimal shape construction
Consumer benefits:
Improved Grip on Snow
Better Braking on Snow
B iRating n Wet Grip
Fuel saving - C in Rolling Resistance
Specific bead seat system. Strengthens the link between tyre and rim for a more precise driving experience. Like the grip between your hand and the steering wheel, the Specific Bead Seat System enhances control and conveys outstanding road feedback. Benefits Enhanced road feedback; greater stability and precision.
Silica-Plus Compound. A motorsport derived tread compound that delivers high levels of grip, particularly on wet roads and in low temperatures.Benefits Superb braking and acceleration performance; high grip in wet and cold-weather conditions; low wear and tear.
Jointless Belt (JLB). A Hybrid Overlay Technology that reduces circumferential deformations at high speeds.Benefits Superior high speed stability
Asymmetric Tread Design. Asymmetric tread design provides improved handling and aquaplaning resistance. The continuous center rib increases stability and precision. The asymmetric groove arrangement enhances grip on wet and dry surfaces.Benefits Improved performance on straight lines and around corners
Multi Blade System. Winter driving conditions can vary greatly. From cold and dry to snow or sleet, these conditions make very high demands on a tyre. Dunlop's multiple blade system meets this challenge head on, with different types of blades for varying winter road conditions.Benefits Consistent performance in various winter conditions.
Multi Radius Tread (MRT). MRT designs employ ten different radii and are therefore more precise. This results in highly effective pressure deployment on the road contact patch. The effect is smoother transitions from straight to corner, leading to more precise and progressive reactions.Benefits Significantly better control over the evolution of the footprint in all driving conditions; responsive wet and dry handling; increased cornering control.
(1) More than 90% of our orders reach the customer in the specified delivery time.