Delticom efficiency index
The efficiency class label evaluated based on customer preferences.
Delticom centralized survey results from more than 40.000 customers from 15 European countries and created this index.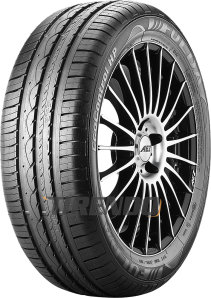 Please note: The tyres are delivered without rims
(The rim on the picture is for illustrative purposes only.)

Fulda EcoControl HP

195/50 R15 82H
Type of Tyre
Summer tyres
Frequently bought together:
1 x Fulda EcoControl HP 195/50 R15 82H =

43.60 £

1 x Castrol 5 Litre Canister =

32.66 £
Description
EU Tyre Label:
Client reviews rating
Fulda EcoControl HP
The perfect balance of performance, fuel efficiency and mileage
The EcoControl HP tyre is a high performance summer tyre that combines excellent braking power with reduced fuel consumption.
Shorter dry braking
Shorter wet braking
Lower fuel consumption
High mileage
Balanced performance
Shorter dry braking. Enjoy confident control when it matters most. The EcoControl HP increases road contact under braking force, for dry braking that's 3 meters shorter than competitors' tyres*. The EcoControl HP gives you high performance handling and high mileage – without the high price tag. This fuel-efficient tire delivers superb braking ability on wet and dry roads.
Shorter wet braking. Braking distances in the wet are up to 2.9 metres shorter*, thanks to a full silica compound and biting edges that cut through the water layer beneath the contact patch. AquaFlow grooves quickly disperse water in heavy rain conditions.
High mileage. Benefit from long lasting performance. Hardwearing compounds and a harmonised poly-rib distribution ensure slow and even wear, giving you more mileage for your money.
Drive with peace of mind. The EcoControl HP is the ideal all-rounder for high performance vehicles. It delivers better overall results in wet handling, braking and fuel efficiency when compared to the average performance of competitor tyres tested.*
Lower fuel consumption. Lower your fuel costs and CO2 emissions. With its high performance construction and EcoTread design, the EcoControl HP needs less energy to roll. In independent tests, the EcoControl HP delivered 9% lower rolling resistance than competitors' tyres.*
What tyre size do you require?
The exact size of a tyre can be found on its sidewall.
The following chart shows you how to read a tyre size.
1. The width in mm
2. The height as the ratio between the width and the height in %
3. Construction type: "R"= radial (often seen), "D" or "-"= diagonal (rarely seen)
4. The required rim diameter (in inches) for this tyre
5. Load index
6. Speed index