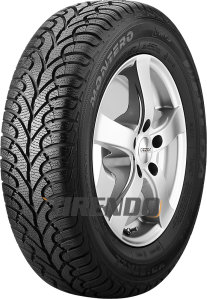 Please note: The tyres are delivered without rims
(The rim on the picture is for illustrative purposes only.)

Fulda Kristall Montero

155/65 R13 73Q
Type of Tyre
Winter tyres
M+S marking
with snow flake symbol
Frequently bought together:
1 x Fulda Kristall Montero 155/65 R13 73Q =

39.40 £

1 x DeltiGrip Deltigrip eco - Quality Snow Chain for your car =

18.72 £
Description
EU Tyre Label:
Client reviews rating
Safety with aquaplanning, great traction on ice, snow and wet surfaces, improved handling and a higher running performance as well as reduced unreeling noise and a higher driving comfort single out this tyre.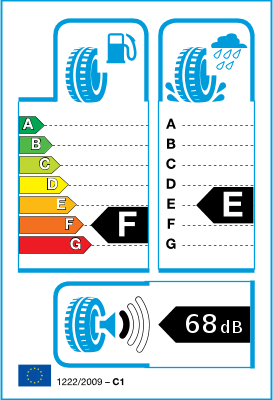 The European Tyre Label
Introduction
Since 1st November, 2012 all tyres made after 1st July, 2012 must show the European Tyre Label.

Benefits
The European Union has developed this new provision to promote economic and ecological efficiency and ensure road safety.

Disadvantages The Tyre Label can provide an overview and give the customer more transparency, but it only covers three criteria. For an extensive evaluation of a tyre, however, far more performance characteristics are relevant. Especially in the search for suitable winter tyres the test results from different test institutions such as the ADAC are much more stringent.

We'd like to point out that it is the manufacturer that labels the tyre and provides us with this information. If you do not find the label values, either the manufacturer did not inform us of the label, or the product was manufactured before July, 2012. Before that date, tyres had not yet been required to carry a label, so in some cases it is possible to purchase a tyre without a Tyre Label.

Symbols
The tyres are classified in terms of three performance characteristics:
• Fuel Efficiency (letters A to G)
• Wet Grip (letters A to G)
• External Noise

Take action
Finally, it is the driver that determines the fuel consumption. In order to reduce this over the long-term, by being careful during acceleration drivers can become more fuel-efficient and environmentally conscious.

Regularly checking tyre pressure helps to improve rolling resistance, reduces energy loss, and supports optimum adhesion in wet conditions. To reduce the risk of accidents and ensure your and the safety of other road users, always keep a reasonable distance.

More information: http://ec.europa.eu/energy/efficiency/tyres/labelling_en.htm

Choose from our large online selection or ask us for advice. Our experts are happy to help you choose the appropriate tyres from our extensive range of products.
Fuel Efficiency
The classification in terms of fuel efficiency is divided into seven classes, from the A-class (the highest) to G-class (the lowest). A tyre in the A-class consumes 0.1 litres less at 100km than a tyre in the B-class. An essential component for fuel efficiency is the rolling resistance or rolling friction.

Rolling Resistance
Rolling resistance is the force that opposes motion. It is formed, for example, when a wheel is rolling. Rolling resistance depends not only on the geometry but also on the properties of the material.

Average Average value is between C-E. Class D is not used.
Wet grip
It shows how efficient the vehicle can brake on wet roads. Wet grip is an important feature especially with summer tyres. Class A has the highest safety and the shortest braking distances. Class F has low security and the longest braking distance.

The wet grip classes are based on test driving on wet roads with a speed of approximately 80 km/h. The difference between the braking distance of the tyres is 3-5 feet per grade. E.g., the difference in braking distance between Class A and Class F are up to 18 metres.

Average The average value of the tyres is between class B-E. Class D and G is not used.
Tyre Noise
The symbol indicates the external rolling noise in decibels and as a 3 class sound wave symbol to clarify whether the tire can keep the recommended level. External rolling noise does not correspond to tyre noise inside the compartment.

A continuous sound level above 80 decibel can cause health problems.

Symbol
Three sound waves symbolize the worst results. These are the tyres that exceed the maximum limit of approval. A symbol of 2 sound waves have noise level that corresponds with the approved sound level. Tyres that are marked with 1 sound wave are over three decibel quieter than the approval.
Safety with aquaplanning, great traction on ice, snow and wet surfaces, improved handling and a higher running performance as well as reduced unreeling noise and a higher driving comfort single out this tyre.
*Prices include VAT and delivery within mainland UK (excl. Scottish Highlands).
**More than 90% of our orders reach the customer in the specified delivery time.
***Rims and complete wheels are excluded from the free delivery (9.90 EURO per wheel / rim).