Delticom efficiency index
The efficiency class label evaluated based on customer preferences.
Delticom centralized survey results from more than 40.000 customers from 15 European countries and created this index.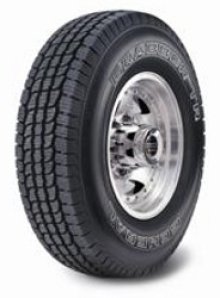 Please note: The tyres are delivered without rims
(The rim on the picture is for illustrative purposes only.)

General GRABBER TR

LT235/85 R16 120/116Q 10PR LR
Type of Tyre
Summer tyres
Frequently bought together:
1 x General GRABBER TR LT235/85 R16 120/116Q 10PR LR =

131.70 £

1 x Castrol 5 Litre Canister =

32.70 £
Description
EU Tyre Label:
Client reviews rating
Get into the Grabber-World!
The specialist tyre for gravel and moderate off-road terrain!
Designed to work hard and play hard, the agressive all-terrain tread pattern of the Grabber TR provides the off-road grip needed for gravel terrain as well as a smooth and comfortable drive on the road. The product line includes P-metric, LT and flotation sizes and covers the complete vehicle range.
For Crossovers, SUVs and Pickup Trucks. Provides the off-road grip needed for gravel terrain as well as a smooth and comfortable drive on-road. Born in the USA, General Tire offers products for all types of vehicles, for all seasons and all terrains. Improved off-road grip. Fits perfectly for example to Jeep Cherokee, Land Rover Defender and Nissan Navara.

Features:
Multi angled tread block design
Computer-aided block layout
Wide longitudinal and lateral tread grooves
Solid outer shoulders
Cut and chip resistant compound
Benefits:
Off-Road grip enhancement required for difficult terrain
On-Road smooth rolling, comfort and noise optimisation
Best water displacement and reduction of the risk of aquaplaning
High cornering stability
Excellent gravel-road and off-road performance and longer life of the tyre
Enhanced off-road grip required for difficult terrain.
Multi-angled tread blocks improve off-road grip, especially on rough terrain.
Pleasantly comfortable.
A computer-optimised tread block design ensures a smooth ride, a high level of comfort and noise optimisation.
Low aquaplaning risk.
Wide longitudinal and lateral grooves optimise water displacement and reduce the risk of aquaplaning.
High cornering stability.
The rigid outer shoulder stabilises steering on winding roads.
Long service life.
The cut and chip resistant rubber compound increases the service life and ensures excellent performance offroad and on gravel tracks.
What tyre size do you require?
The exact size of a tyre can be found on its sidewall.
The following chart shows you how to read a tyre size.
1. The width in mm
2. The height as the ratio between the width and the height in %
3. Construction type: "R"= radial (often seen), "D" or "-"= diagonal (rarely seen)
4. The required rim diameter (in inches) for this tyre
5. Load index
6. Speed index