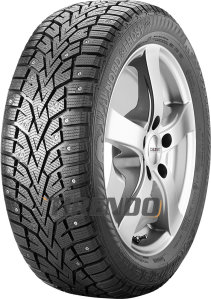 Please note: The tyres are delivered without rims
(The rim on the picture is for illustrative purposes only.)
Gislaved NordFrost100
Winter tyres

235/45 R17 97T

97

T

(max 190 km/h)

R-297598
Description
EU Tyre Label:
The NEW Nord*Frost 100 - The Pre-Studded/Studdable Winter Tire. A Grip Expert on your side.

For compact-, middle- and upper-classs vehicles and SUVs. With high tech stud technology! Tested under the toughest climates of Sweden, Gislaved offers superb grip and control in all conditions. Extraordinary ice traction thanks to high-tech stud technology. Fits perfectly for example to Volvo 540, Ford Mondeo and VW Touran.
Optimized ice traction and breaking
Excellent snow traction
High steering response and Optimized handling on dry roads
Smooth and quiet riding
High mileage and low rolling resistance
Technical Details:

Ice traction:

Ice Spykes
Feature: Optimised pin geometry with edges in all directions
Effect: High interlocking with the icy road in lateral and longitudinal direction
Benefit: High lateral stability, extraordinary ice traction and braking
Ice Handling:
Feature: Circumferential middle block row with straight sipes
Effect: Large contact area with many grip edges
Benefit: High ice grip
Snow traction:

Snow volumne
Features: Double pitch structure with many grooves in the shoulder area. Straight sipes in the middle
Effects: Many grip edges and high void volume to collect snow. Sipes open themselves
Benefit: Excellent snow traction and braking
Grip edges
Feature: Optimised angle block edges in all directions
Effect: grip edges in all directions
Benefit: High lateral grip on snow
Dry handling
Feature: Interwoven structure in the centre and sinus sipes in the shoulder
Effect: Highly rigidity in driving direction, interlocking in all directions
High steering response and optimised handling on dry roads
Noise:
Feature: Computer optimized spike sequence according to new Finnish legislation (50 studs/mtr.)
Effect: High variety of noise frequence
Benefit: Smooth and quiet riding
Mileage and rolling resistance:
Feature: Optimised contour
Effect: Balanced pressure distribution in ground contact areas
Benefit: High mileage andn low rolling resistance
(1) More than 90% of our orders reach the customer in the specified delivery time.