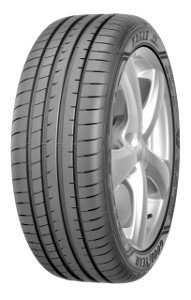 Please note: The tyres are delivered without rims
(The rim on the picture is for illustrative purposes only.)
Goodyear Eagle F1 Asymmetric 3 ROF
Summer tyres

275/35 ZR20 98Y TPC, with rim protection (MFS), runflat

98

Y

(max 300 km/h)

BSW
Description
EU Tyre Label:
NEW Goodyear Eagle F1 Asymmetric 3
TÜV test winner for braking on wet and dry roads*
Next generation technologies deliver outstanding performances both on dry and wet roads.
Shorter braking distance on wet & dry roads
Thanks to increased tire contact with the road.
Better grip for braking and handling
Adhesive resin increases stickiness with the surface.
Steering precision and durability
Thanks to a stronger lightweight construction.
The New Eagle F1 Asymmetric 3 has been tested by independent organization TÜV and verified strong performance compared to other premium brand tires in the market.
2.6 meters shorter braking distance on wet roads, or 9% better performance*
1.3 meters shorter braking distance on dry roads, or 4% better performance*
4% better wet handling*
10.9% better rolling resistance than the average of leading competitors and representing second best rolling resistance performance of tire brands tested**
RunOnFlat: A revolution in history of run flat tires
It's one's worst nightmare: you're on your way to your son's big football match, your daughter's graduation or that big business meeting your career depends on, and disaster strikes - a flat tire on the motorway. With Goodyear's revolutionary RunOnFlat technology, this fear will be a thing of the past. Cars fitted with run flat tires will keep going for up to 80 km after a puncture or blow out. So no matter where you're going, Goodyear RunOnFlat will make sure you get there.
* Compared to average performance of 3 latest designs from main competitors in UHP segment (Michelin Pilot Sport 3, Bridgestone Potenza S001, Continental Sport Contact 5). Tested by TÜV SÜD Product Service GmbH in Sept – Oct 2015 by order of Goodyear Dunlop. New UHP, Tire Size: 225/45 R17 91Y; Test Car: VW Golf; Test Locations: Mireval (F), Papenburg (D), TÜV SÜD PS Garching (D); Report No. 713066268.
** Scores for rolling resistance: Continental Sport Contact 5 – 101.6; Goodyear Eagle F1 Asymmetric 3 – 100; average of leading competitors – 89.1. Part of test specified above with report No. 713066268.
(1) More than 90% of our orders reach the customer in the specified delivery time.