Delticom efficiency index
The efficiency class label evaluated based on customer preferences.
Delticom centralized survey results from more than 40.000 customers from 15 European countries and created this index.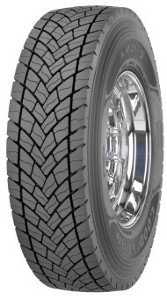 Please note: The tyres are delivered without rims
(The rim on the picture is for illustrative purposes only.)

Goodyear KMAX D

315/45 R22.5 147/145L 20PR
Type of Tyre
All-season tyres
M+S marking
with snow flake symbol
Description
EU Tyre Label:
Goodyear KMAX D
The KMAX D tire offers high mileage potential, high traction performance and low noise emission thanks to optimized tire pressure distribution, the right number of pitches, the non-skid optimized block geometry and a higher wearable rubber volume compared to its predecessors. The KMAX D tire meets established winter requirements and carries both the M+S and the 3 Peak Mountain Snow Flake symbol.
Up to 35% more mileage compared to its predecessor*. The KMAX D offers high mileage potential, high traction performance and low noise emission thanks to:
Optimised block geometries
Directional, V-shape tread pattern
3D waffle sipes
M+S marking
Benefits
Long V-shape directional tread design Tread blocks gradually contact and leave the road surface -> limits the potential for block slipping.
S-shape 3D waffle sipes and raindrop channel Block parts interconnect as the tyre rolls into its footprint and raindrop channel generates new groove when tyre is 3/4 worn -> limits block movement and block slip -> excellent grip on slippery surface, even when worn.
Special connection bridges between the tread block Individual blocks are interconnected at different tread depths bridges stiffen the tread and -> limit tread movement and block slipping.
What tyre size do you require?
The exact size of a tyre can be found on its sidewall.
The following chart shows you how to read a tyre size.
1. The width in mm
2. The height as the ratio between the width and the height in %
3. Construction type: "R"= radial (often seen), "D" or "-"= diagonal (rarely seen)
4. The required rim diameter (in inches) for this tyre
5. Load index
6. Speed index