Delticom efficiency index
The efficiency class label evaluated based on customer preferences.
Delticom centralized survey results from more than 40.000 customers from 15 European countries and created this index.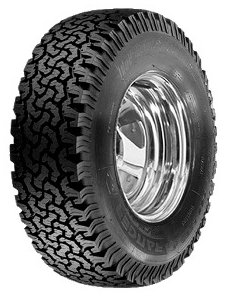 Please note: The tyres are delivered without rims
(The rim on the picture is for illustrative purposes only.)
Insa Turbo RANGER

235/85 R16 120/116N remould
Type of Tyre
Summer tyres
Frequently bought together:
1 x Insa Turbo RANGER 235/85 R16 120/116N remould =

133.50 £

1 x Castrol 5 Litre Canister =

32.70 £
INSA TURBO launches the new 4x4 tyre RANGER, 50%/50%.

The perfect combination of vitality on the most demanding terrains with the safety and adherence on the roads.
Excellent control of the vehicle on/off road. Enhanced road performance.
What tyre size do you require?
The exact size of a tyre can be found on its sidewall.
The following chart shows you how to read a tyre size.
1. The width in mm
2. The height as the ratio between the width and the height in %
3. Construction type: "R"= radial (often seen), "D" or "-"= diagonal (rarely seen)
4. The required rim diameter (in inches) for this tyre
5. Load index
6. Speed index