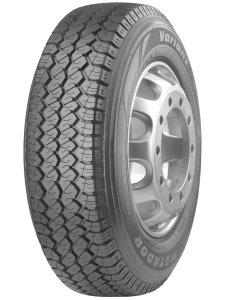 Please note: The tyres are delivered without rims
(The rim on the picture is for illustrative purposes only.)
Matador DR2 Variant
All-season tyres

M+S marking

235/75 R17.5 132/130L Dual Branding 130/128M

132/130

L

(max 120 km/h)

R-102767
Description
EU Tyre Label:
Construction of DR 2 VARIANT M+S tyre and structure of its material

• The tyre is constructed from an ALL STEEL construction with a no- tube rendering that consists of one load-bearing structure built from steelcord and three contact breaker insertions from the same type of material.

• The tyre base has a new profile: the applied hexagonal cord, double core, with steelcord protection and base fillings from special mixtures. The tyre body is constructed from a profiled inner rubber, with a new system of rubber covering of the steelcord body, and contact breakers with the application of a new shoulder part filling.

• The tread of the tyre is composed of two layers the external one which is made from a mixture that has a high durability even after a high number of made kilometers and an inner layer which leads away the heat produced during the rotation of a loaded tyre.

• Technical specification of the product and the tread pattern characteristics
this proven all-purpose tread pattern is designed for utility vehicles used for regional and local performance on A and Broads, and mountain region roads.

• These tread patterns are suitable for all-year performance and in all weather conditions. Because of their excellent driving qualities they are marked M+S. Mounting of the tyres with the DR 2 tread pattern is recommended for rear (traction) axle of the vehicle.

• During winter season it is possible to use these tyres for the whole vehicle, which is advantageous when using the front axle drive.

• The tyres with the DR 2 tread pattern have high durability and there is the possibility to re-create grooves.

Tread pattern characteristics

• Noticeable circumferential zigzag grooves provide, aside from the transfer of gripping power, also sufficient driving qualities - in particular on wet and snowy surfaces

• Sharp shoulder block edges provide excellent gripping qualities of the tread pattern in difficult operating conditions

• Configuration of lamellas considerably supports the adhesive qualities on wet and also dry surfaces

• Reinforcement of the shoulder block parts of the tread allows maintaining steady wearing out in varying load modes

Driving qualities

• The tread pattern of the tyre is suitable not only for all-season application but especially for winter season, because it provides excellent grip on snowy and icy surfaces.

(1) More than 90% of our orders reach the customer in the specified delivery time.