Delticom efficiency index
The efficiency class label evaluated based on customer preferences.
Delticom centralized survey results from more than 40.000 customers from 15 European countries and created this index.
Client reviews rating
More than 5 billion kilometers. Testcauciucuri.com offers over 430 000 tests firsthand - from consumers for consumers.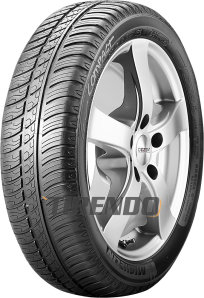 Please note: The tyres are delivered without rims
(The rim on the picture is for illustrative purposes only.)

Michelin Compact

145/60 R13 65T
Stock Level
at the moment, this product is not in stock
Type of Tyre
Summer tyres
Frequently bought together:
1 x Michelin Compact 145/60 R13 65T =

50.80 £

1 x Castrol 5 Litre Canister =

32.76 £
Description
EU Tyre Label:
Client reviews rating
About Michelin
Summer tires from Michelin
Excellent mileage thanks to the special rubber compound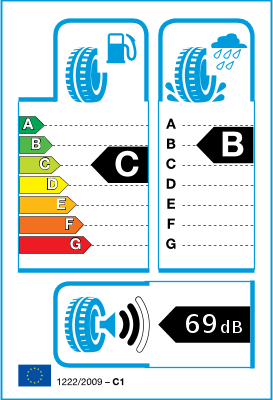 The European Tyre Label
Introduction
Since 1st November, 2012 all tyres made after 1st July, 2012 must show the European Tyre Label.

Benefits
The European Union has developed this new provision to promote economic and ecological efficiency and ensure road safety.

Disadvantages The Tyre Label can provide an overview and give the customer more transparency, but it only covers three criteria. For an extensive evaluation of a tyre, however, far more performance characteristics are relevant. Especially in the search for suitable winter tyres the test results from different test institutions such as the ADAC are much more stringent.

We'd like to point out that it is the manufacturer that labels the tyre and provides us with this information. If you do not find the label values, either the manufacturer did not inform us of the label, or the product was manufactured before July, 2012. Before that date, tyres had not yet been required to carry a label, so in some cases it is possible to purchase a tyre without a Tyre Label.

Symbols
The tyres are classified in terms of three performance characteristics:
• Fuel Efficiency (letters A to G)
• Wet Grip (letters A to G)
• External Noise

Take action
Finally, it is the driver that determines the fuel consumption. In order to reduce this over the long-term, by being careful during acceleration drivers can become more fuel-efficient and environmentally conscious.

Regularly checking tyre pressure helps to improve rolling resistance, reduces energy loss, and supports optimum adhesion in wet conditions. To reduce the risk of accidents and ensure your and the safety of other road users, always keep a reasonable distance.

More information: http://ec.europa.eu/energy/efficiency/tyres/labelling_en.htm

Choose from our large online selection or ask us for advice. Our experts are happy to help you choose the appropriate tyres from our extensive range of products.
Fuel Efficiency
The classification in terms of fuel efficiency is divided into seven classes, from the A-class (the highest) to G-class (the lowest). A tyre in the A-class consumes 0.1 litres less at 100km than a tyre in the B-class. An essential component for fuel efficiency is the rolling resistance or rolling friction.

Rolling Resistance
Rolling resistance is the force that opposes motion. It is formed, for example, when a wheel is rolling. Rolling resistance depends not only on the geometry but also on the properties of the material.

Average Average value is between C-E. Class D is not used.
Wet grip
It shows how efficient the vehicle can brake on wet roads. Wet grip is an important feature especially with summer tyres. Class A has the highest safety and the shortest braking distances. Class F has low security and the longest braking distance.

The wet grip classes are based on test driving on wet roads with a speed of approximately 80 km/h. The difference between the braking distance of the tyres is 3-5 feet per grade. E.g., the difference in braking distance between Class A and Class F are up to 18 metres.

Average The average value of the tyres is between class B-E. Class D and G is not used.
Tyre Noise
The symbol indicates the external rolling noise in decibels and as a 3 class sound wave symbol to clarify whether the tire can keep the recommended level. External rolling noise does not correspond to tyre noise inside the compartment.

A continuous sound level above 80 decibel can cause health problems.

Symbol
Three sound waves symbolize the worst results. These are the tyres that exceed the maximum limit of approval. A symbol of 2 sound waves have noise level that corresponds with the approved sound level. Tyres that are marked with 1 sound wave are over three decibel quieter than the approval.
Summer tires from Michelin
Excellent mileage thanks to the special rubber compound
Michelin – we take you further.
The vision of our founders, Edouard and André Michelin, has guided the development of the MICHELIN brand for more than 125 years: making driving as simple, safe, and comfortable as possible – first with innovative tires and wheels, followed by road maps, travel guides, and contributions toward improving traffic infrastructure. Along with this comes a strong engagement with the environment, as modern mobility must be sustainable and not detrimental to the environment.
Each year the Michelin Group produces more than 178 million tires in 68 production facilities in 17 countries, and it operates sales networks in more than 170 countries. The product offerings are many: from bicycle, passenger car, truck, motorcycle, and tractor tires, to tires for 5-ton earth-moving machines. Michelin employs 111,700 people worldwide and owns one of the oldest, most famous trademarks in the world – the legendary Michelin Man.
Targeted development: MICHELIN Total Performance
In the development of new products, Michelin faithfully pursues the concept of "MICHELIN Total Performance", backed by the rigorous standard of always bringing together a number of performance characteristics into a tire, to achieve optimal results. We follow this philosophy not only in the development of our standard products, but also in motorsports. Numerous technical innovations help to relieve burdens on the environment, drivers, and businesses. Hidden out of sight in tire casings, tread designs, and rubber compounds, throughout their lives MICHELIN tires show their full potential: they offer excellent grip, long life, and reduced fuel consumption thanks to their low rolling resistance.
To better understand the conditions which tires are subjected to in everyday use, in the summer of 2014 Michelin began a unique research project – the Road Usage Lab. Vehicles from 3,000 drivers in Europe were equipped with special measurement devices to record data about the tires' use. These valuable findings are being employed in the development of future tire models, making them better suited to the needs of real drivers.
What tyre size do you require?
The exact size of a tyre can be found on its sidewall.
The following chart shows you how to read a tyre size.
1. The width in mm
2. The height as the ratio between the width and the height in %
3. Construction type: "R"= radial (often seen), "D" or "-"= diagonal (rarely seen)
4. The required rim diameter (in inches) for this tyre
5. Load index
6. Speed index