Delticom efficiency index
The efficiency class label evaluated based on customer preferences.
Delticom centralized survey results from more than 40.000 customers from 15 European countries and created this index.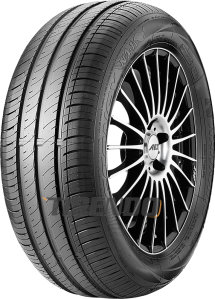 Please note: The tyres are delivered without rims
(The rim on the picture is for illustrative purposes only.)

Nankang Econex NA-1

195/60 R15 88H
Type of Tyre
Summer tyres
Frequently bought together:
1 x Nankang Econex NA-1 195/60 R15 88H =

38.10 £

1 x Castrol 5 Litre Canister =

32.70 £
Description
EU Tyre Label:
Client reviews rating
NA-1 adopts uniquely asymmetric pattern design. The inside pattern stresses on drainage performance. Larger void ratio improves drainage performance on wet roads. The enlarged third section of tread radius lessen contact pressure of tread shoulder, and further reduce the noise generated from the lateral grooves on tread shoulder.
Light-weight profile and narrow tread width design reduce rolling resistance. The outside pattern emphasizes on manoeuvrability. The larger pattern blocks on tread shoulder offers better cornering handling. Noise prevention bar on the lateral grooves of outside tread shoulder block airflow in the grooves to reduce the derived noise. Chamfered groove wall design scarifies the water film for getting a better wet grip.
What tyre size do you require?
The exact size of a tyre can be found on its sidewall.
The following chart shows you how to read a tyre size.
1. The width in mm
2. The height as the ratio between the width and the height in %
3. Construction type: "R"= radial (often seen), "D" or "-"= diagonal (rarely seen)
4. The required rim diameter (in inches) for this tyre
5. Load index
6. Speed index