Delticom efficiency index
The efficiency class label evaluated based on customer preferences.
Delticom centralized survey results from more than 40.000 customers from 15 European countries and created this index.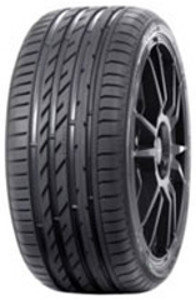 Please note: The tyres are delivered without rims
(The rim on the picture is for illustrative purposes only.)

Nokian Hakka Black RunFlat

205/50 R17 89W runflat
Stock Level
at the moment, this product is not in stock
Type of Tyre
Summer tyres
Frequently bought together:
1 x Nokian Hakka Black RunFlat 205/50 R17 89W runflat =

184.10 £

1 x Castrol 5 Litre Canister =

32.70 £
Description
EU Tyre Label:
Nokian Hakka Black RunFlat
Stable, accurate, quiet
Accurate and easy to drive on, even in extreme conditions
Excellent wet grip at all temperatures
RunFlat Technology
You can drive approximately 50 kilometres on a flat tyre, if the car is fully loaded. If the car is only carrying the driver, the transition drive can be up to 150 kilometres.
Nokian Tyres recommends a maximum speed of 80 kilometres per hour. Under very slippery conditions, the speed should be kept at approximately 50 km/h.
For safety reasons, run flat tyres can only be mounted on cars equipped with air pressure monitoring that is integrated into the IT system, or some other system that warns of changes in tyre pressure changes, and a driving stability management system (ESP).
What tyre size do you require?
The exact size of a tyre can be found on its sidewall.
The following chart shows you how to read a tyre size.
1. The width in mm
2. The height as the ratio between the width and the height in %
3. Construction type: "R"= radial (often seen), "D" or "-"= diagonal (rarely seen)
4. The required rim diameter (in inches) for this tyre
5. Load index
6. Speed index