Delticom efficiency index
The efficiency class label evaluated based on customer preferences.
Delticom centralized survey results from more than 40.000 customers from 15 European countries and created this index.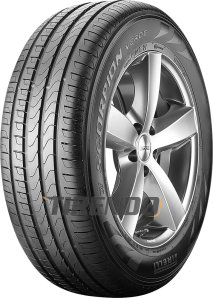 Please note: The tyres are delivered without rims
(The rim on the picture is for illustrative purposes only.)

Pirelli Scorpion Verde

255/45 R20 105W XL
Type of Tyre
Summer tyres
Frequently bought together:
1 x Pirelli Scorpion Verde 255/45 R20 105W XL =

170.00 £

1 x Castrol 5 Litre Canister =

32.70 £
Description
EU Tyre Label:
Client reviews rating
SHAPE YOUR FREEDOM - 0% OFF- 100% ON
The tyre developed specifically for Crossovers and SUVs. Improves grip & braking on wet in its category and improved stability also for big SUVs. The Scorpion Verde™ has been created to take full advantage of Pirelli's latest materials, structures and tread patterns in order to guarantee savings, respect for the environment, comfort and safety on all road surfaces.
ENERGY™ EFFICIENT:
Reduces fuel consumption and CO2 emissions
CLEAN AIR:
Made from eco-compatible materials that minimise environmental impact, both at the production stage and throughout the life of the tyre
HIGH MILEAGE:
Longer lasting tyre that maintains high levels of performance and safety
LOW NOISE:
Already complies with the 2012 EU Regulation on the reduction of noise, resulting in improved driving comfort
What tyre size do you require?
The exact size of a tyre can be found on its sidewall.
The following chart shows you how to read a tyre size.
1. The width in mm
2. The height as the ratio between the width and the height in %
3. Construction type: "R"= radial (often seen), "D" or "-"= diagonal (rarely seen)
4. The required rim diameter (in inches) for this tyre
5. Load index
6. Speed index