Delticom efficiency index
The efficiency class label evaluated based on customer preferences.
Delticom centralized survey results from more than 40.000 customers from 15 European countries and created this index.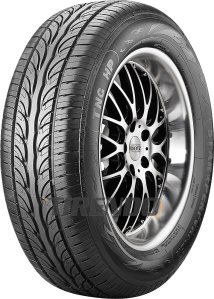 Please note: The tyres are delivered without rims
(The rim on the picture is for illustrative purposes only.)

Star Performer HP 1

195/60 R15 88V
Type of Tyre
Summer tyres
Frequently bought together:
1 x Star Performer HP 1 195/60 R15 88V =

42.30 £

1 x Castrol 5 Litre Canister =

32.68 £
Description
EU Tyre Label:
Client reviews rating
Star Performer HP
Drivers of compact cars should have a look at the Star Performer HP. But the size of 15 inches is also suitable for many small cars. Star Performer is a proprietary trademark of the Delticom AG and provides an excellent price-performance ratio. With the HP you'll get a summer tyre which provides safety even on wet roads and much ride comfort at all times. Customers on Tyretest.com especially praise its low fuel consumption. High quality tyres that offer optimum grip and traction on wet roads, but also precise maneuverability and cornering stability.
What tyre size do you require?
The exact size of a tyre can be found on its sidewall.
The following chart shows you how to read a tyre size.
1. The width in mm
2. The height as the ratio between the width and the height in %
3. Construction type: "R"= radial (often seen), "D" or "-"= diagonal (rarely seen)
4. The required rim diameter (in inches) for this tyre
5. Load index
6. Speed index