Delticom efficiency index
The efficiency class label evaluated based on customer preferences.
Delticom centralized survey results from more than 40.000 customers from 15 European countries and created this index.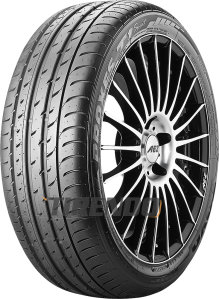 Please note: The tyres are delivered without rims
(The rim on the picture is for illustrative purposes only.)
Toyo Proxes T1 Sport

285/30 ZR19 (98Y) XL
Type of Tyre
Summer tyres
Speed Rating
Approved
up to over 301 km/h
Frequently bought together:
1 x Toyo Proxes T1 Sport 285/30 ZR19 (98Y) XL =

178.40 £

1 x Castrol 5 Litre Canister =

33.04 £
Description
EU Tyre Label:
Client reviews rating
Toyo Proxes T1 Sport
Ultra-High Performance Summer Tire State-of-the-art design and construction give the Proxes T1 Sport the perfect mix of high-speed stability and cornering power, precise steering response, and quick braking on wet or dry pavement. It is perfect for pushing through hairpin after hairpin on tight mountain roads or on the open highway headed for the beach.
Responding to the demand for ultimate handling in both wet + dry conditions, Proxes T1 Sport is supremely stable, even at fast highway speeds. Developed for European conditions and vehicles, the tire complements the handling of the most prestigious sports saloons and coupes.
Outside - Cornering Performance
Increased contact area through use of wide ribs with shallow and narrow groove to maintain good tread contact with the road.
Improved handling and high grip.
Inside - Aquaplaning + Braking
Two wide grooves ensure good water drainage.
Better braking achieved via a rib based pattern configuration, which increases the tread's rigidity in the back and forward directions.
Tread Design - Wide Outer Blocks
Increased contact area through the use of wide blocks with shallow and narrow grooves to maintains good tread contact with the road. Improved handling with responsive steering feel and high grip.
Tread Design - Wide Center Rib*
High-speed stability + handling response are improved by adoption of a wide center rib.
*285 section width and larger
Tread Design - Inner Rib + Notch
The inside ribs have a solid shape, which enhances rigidity, improves braking performance and reduces irregular wear.
Tread Design - Wide Straight Grooves
Wide straight grooves provide a wide water channel for better aquaplaning resistance.
What tyre size do you require?
The exact size of a tyre can be found on its sidewall.
The following chart shows you how to read a tyre size.
1. The width in mm
2. The height as the ratio between the width and the height in %
3. Construction type: "R"= radial (often seen), "D" or "-"= diagonal (rarely seen)
4. The required rim diameter (in inches) for this tyre
5. Load index
6. Speed index