Delticom efficiency index
The efficiency class label evaluated based on customer preferences.
Delticom centralized survey results from more than 40.000 customers from 15 European countries and created this index.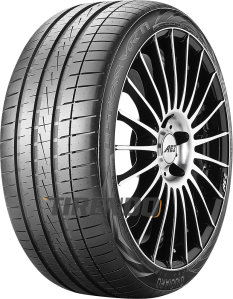 Please note: The tyres are delivered without rims
(The rim on the picture is for illustrative purposes only.)

Vredestein Ultrac Vorti

265/40 ZR21 (105Y) XL
Type of Tyre
Summer tyres
Speed Rating
Approved
up to over 301 km/h
Frequently bought together:
1 x Vredestein Ultrac Vorti 265/40 ZR21 (105Y) XL =

202.50 £

1 x Castrol 5 Litre Canister =

32.70 £
Description
EU Tyre Label:
Client reviews rating
The Ultrac Vorti is an Ultra High Performance tyre in the absolute top segment of the market. The tyre was developed in close collaboration with the Italian design company Giugiaro, and its slimline design and asymmetric profile give this tyre an extremely sporty and unique appearance. The tyre excels in terms of grip, handling, comfort and braking behaviour on both dry and wet road surfaces. By making use of innovative technologies, the tyre is also surprisingly quiet.
The Ultrac Vorti is also available in rear axle sizes with an adapted profile and specially-tailored structure, especially for sports cars that have different tyre sizes on the front and rear axle. Due to the fact that it is the front tyres that dissipate the majority of the water when the road surface is wet, the focus for the rear tyres was on increased grip and stability.
What tyre size do you require?
The exact size of a tyre can be found on its sidewall.
The following chart shows you how to read a tyre size.
1. The width in mm
2. The height as the ratio between the width and the height in %
3. Construction type: "R"= radial (often seen), "D" or "-"= diagonal (rarely seen)
4. The required rim diameter (in inches) for this tyre
5. Load index
6. Speed index