Delticom efficiency index
The efficiency class label evaluated based on customer preferences.
Delticom centralized survey results from more than 40.000 customers from 15 European countries and created this index.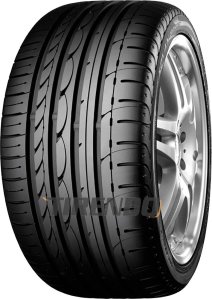 Please note: The tyres are delivered without rims
(The rim on the picture is for illustrative purposes only.)

Yokohama Advan Sport (V103)

285/45 R19 107Y RPB
Type of Tyre
Summer tyres
Frequently bought together:
1 x Yokohama Advan Sport (V103) 285/45 R19 107Y RPB =

216.10 £

1 x Castrol 5 Litre Canister =

32.66 £
Description
EU Tyre Label:
Yokohama Advan Sport V103 - Premium Sport
Applications
Premium cars
High performance cars
High performance SUVs
Benefits
A perfect balance of sport and comfort
High speed rating over 300 km/h (depend on sizes)
Exceptional handling and braking in extreme conditions
Wider size range to meet premiums and tuned cars
OE approval spec available
Feature
High grip compound with a low dependency on temperature
Innovational ADVAN asymmetric tread design for outstanding drivability
Exclusvive construction for high powered, high speed and high loading stress
OE approved vehicles: Audi, Bentley, Honda, Mercedes-Benz, Mercedes-AMG, Nissan, Porsche, Volkswagen
Flagship tyre of the ADVAN series. A superior sports tyre with ultra high-speed capabilities (over 300 km/h*) for super cars. The ADVAN Sport provides balance at a high level, resulting not only in sporty performance, but also excellent characteristics on wet pavement, a good ride, low noise, as well as many other features demonstrative in its class. Ideal for performance cars, from high-powered saloons to tuned cars. *Speed capability dependent on dimension.
A high-grip compound created through joint development with super sports car manufacturers. The new compound developed for ADVAN Sport was tested many times under hypervelocity conditions, and is the ultimate model from YOKOHAMA. This high-grip rubber ensures both flexibility and strength.
"Innovation" is our tradition. ADVAN's asymmetrical pattern, which is its tradition, is proof of its place in the history of the sports tyre. You can actually feel its outstanding drivability.
Specifically designed for high-speed driving, the ADVAN Sport ensures stability in high-powered sports cars. Using the latest technologies, the ADVAN Sport, designed for speed, accomplishes a high resistance and accurately simulates the loading stress on your tyres during driving.
What tyre size do you require?
The exact size of a tyre can be found on its sidewall.
The following chart shows you how to read a tyre size.
1. The width in mm
2. The height as the ratio between the width and the height in %
3. Construction type: "R"= radial (often seen), "D" or "-"= diagonal (rarely seen)
4. The required rim diameter (in inches) for this tyre
5. Load index
6. Speed index