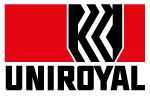 Uniroyal RainExpert Tyres
Find your
RainExpert
here!
Why select Uniroyal RainExpert tyres?
As the name suggests, the Uniroyal RainExpert tyres are the perfect choice for compact cars during rainy season. These tyres will help in quickly repelling out all the water that splashes on them and thereby protects against hydroplaning. They offer shorter braking distances on wet and dry roads.
Features of Uniroyal RainExpert
These Uniroyal tyres are designed in such a way to offer very short braking distances through angled sipes on the tyre shoulders. The V shaped grip on the center of the tyre offers great grip during braking. The double concave grooves in the center will help in dispersing the water and prevents its swirling. There are visual alignment indicators in the tread to indicate the uneven wear and tear of the tyre. This will help in increasing the life of the tyre.
Specifications of Uniroyal RainExpert
The Uniroyal RainExpert tyres are made to suit rim sizes of 13, 14, 15, 16, 17 and 18 inches. The tyre specifications you will come across at Tirendo.co.uk for 13" rims are: 135/80 to 165/80 70T to 87T that represents width / height and load speed index respectively. The 14 inch rims are offered with specs like 175/80 88T 195/60 86H. The specifications of 15 and 16 inch rims range from 165/65 81T to 225/60 96W and from 205/ 60 92H to 235/60 100W. The 18 inch wheel specs are 235/60 107 V and 255/60 112 V.
Steady and comfortable
Order easily and conveniently with Free Delivery
Select your tyre size and save today!