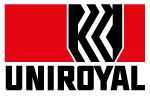 Uniroyal RainSport 3 Tyres
Find your
RainSport 3
here!
High- performance tyre for your car: Uniroyal Rainsport 3
Uniroyal Tyre Company was established on 1892 back when it was called U.S. Rubber Company. Later in 1961, the company was named Uniroyal, Inc. At the moment, the company is owned by Michelin Tyre Company and has been operating as a separate organization. The company produces various types of tyres such as all- season tyres, summer tyres and winter tyres for different vehicles which include passenger cars, SUV/ 4x4, trucks and buses, motorbikes and scooters, different types of industrial and commercial vehicles. All the tyres are manufactured with the latest innovative technology and aims to offer comfortable tyres with extreme safety to their consumers all around the world.
Uniroyal Rainsport 3 consists of symmetrical tread pattern that provides excellent traction between the surface of the road and the rubber compound of the tyre. The tyre is manufactured with Shark Skin Technology which allows the water to flow smoothly and quickly, while driving through wet road conditions, preventing the risk of aquaplaning. The tread blocks of the tyre offer better cornering stability along with excellent short braking distance.
Uniroyal Rainsport 3 is available in many sizes which include: Uniroyal Rainsport 3 195/45 R 15 78 V FR - The tyre enables the vehicle to drive at high speeds without causing any sort of malformation and consists of a noise decreasing system which allows a quiet ride. The tyres go through many kinds of tests before being distributed to the automobile markets. All the tyres of Uniroyal abide by the guidelines provided by the European Union and also bears a label of the European Union.
Steady and comfortable driving
Order easily and conveniently with Free Delivery
Select your tyre size and save today!